Our tasting experiences delve into the whisky making world delivering a comprehensive and enjoyable tasting experience for all.
If you have a voucher for a tasting, please visit our 'how to redeem a voucher' page.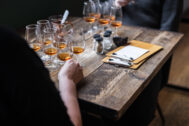 A World of Whisky
The ideal whisky line-up for those beginning their whisky journey, or just who want to discover whiskies from around the world.
2 - 26 people
£30 per person
View tasting
A Tour of Scotland
Take a virtual Tour of Scotland with a guided tasting of six whiskies, one from each producing region in Scotland.
2 - 26 people
£35 per person
View tasting
Fine & Aged
An exceptional line-up of six whiskies that are more aged, a limited edition and higher ABV.
2 - 26 people
£60 per person
View tasting