The city's flagship whisky festival will return in 2024
Featuring major whisky brands, independent bottlers, local experts, creative masterclasses, collaborations with local bars and experts, music and street food. Over the years we've not only hosted whisky connoisseurs, but also newcomers keen to explore the world of whisky. An event not to be missed!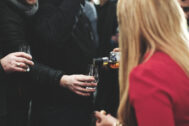 Getting there
The Bond is in Digbeth on Fazeley Street, and a 15 minute walk from the centre of town. The nearest train station is
Moor Street.
Tickets
Tickets are £50 or £35 for members of The Birmingham Whisky Club.
General Admission - On sale 1st October 2023
£50
Buy ticket
Members Admission - On sale 1st October 2023
£35
Buy ticket
Whisky Brands 2024, coming later in 2023
What to expect on the day
Members Admission
Members hour for The Birmingham Whisky Club
General Admission
Festival opens to general admission holders