Born out of a passion
We founded Grain & Glass (formerly The Whisky Club) to create a community for whisky lovers. Starting out as a tasting events company in 2011, and popping up in venues around the city, we knew we were onto something special. In 2018 we opened the doors to our first venue so we could expand our offering and give a home to all our tasting events. We want to make whisky more approachable and change how people view it, and through our bar selection, helpful staff and our tasting events, we think we do this.
Amy
Owner
As the owner of the Club, Amy has been around working on delivering mighty fine whisky experiences for over 10 years and is well-known in the industry. Her whisky knowledge is wide and she has worked tirelessly to create one of the finest whisky havens in the UK. Amy can usually be found sat at the end of the bar chatting to people who come in. If not there, she's likely up in Scotland visiting distilleries (or at least will be once again post-lockdown!) She's usually the one on social media as well if you want to get in touch. Cask strength, wine matured and peaty whiskies are her favourite.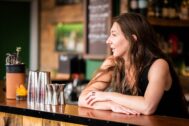 Alice
Events & Club Operations
Alice looks after the operational side of the business along with all the events and a lot of how the space runs. She's also pretty handy with a hammer if we're in need! Many of you have met her at an event or festival but did you know she's also a talented artist? Her work can be seen on the walls of a number of pubs around the city. Whisky wise, she's getting more into some independent bottlers.
Joe
Bar Manager
Joey is our bar manager and last year put out his first cocktail list for us. A great mix of classic Old Fashioneds and another list of original cocktails that can be made with a whisky or another drink. Very inventive! He reads whisky books like there's no tomorrow, so do come and test his knowledge. In his spare time, he enjoys being behind the camera and also does something that involves running around a field. His whisky preference: all of it!