---
Collections
PLEASE NOTE ALL ORDERS ARE USUALLY DISPATCHED ON SATURDAYS VIA DHL NEXT DAY DELIVERY BUT THERE MAY BE A SLIGHT DELAY DURING THE BUSY CHRISTMAS PERIOD
---
---
In-Bar Gift Experiences For Two
PLEASE NOTE ALL ORDERS ARE USUALLY DISPATCHED BETWEEN WEDNESDAY-FRIDAY VIA ROYAL MAIL BUT THERE MAY BE A SLIGHT DELAY DURING THE BUSY CHRISTMAS PERIOD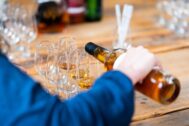 A World of Whisky Tasting Voucher
Whisky is made all over the world, and this masterclass will take you through six whiskies from a number of producing countries. Great for people new to whisky.
For 1-10 people
From £30.00
View experience
A Tour of Scotland Tasting Voucher
Taste your way across Scotland with a line of some of the best examples of each whisky making region of the country.
For 1-10 people
From £35.00
View experience
Fine & Aged Tasting Voucher
A fine tasting for two! We'll guide you through a line up of six complex and uncommon whiskies.
For 1-10 people
From £60.00
View experience
---
Vouchers
PLEASE NOTE ALL ORDERS ARE USUALLY DISPATCHED BETWEEN WEDNESDAY-FRIDAY VIA ROYAL MAIL BUT THERE MAY BE A SLIGHT DELAY DURING THE BUSY CHRISTMAS PERIOD
Bar Tab & Event Vouchers
Our bar tab or event vouchers make the ideal gift for those you know will enjoy an evening out at the bar or one of our events or tastings! Not valid for use on our online shop.
View product
Online Shop Gift card
The perfect gift for a whisky lover to choose their desired cocktails, whisky box or even a membership. Not valid towards a bar tab or events.
View product
---
Memberships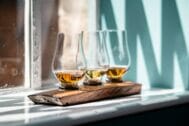 Single Malt
From discounted festival tickets, event discounts, members events and more, our Single Malt membership is the perfect way to engage more with the Club and get involved with our community of whisky lovers.
1 year Club Membership
£60
View membership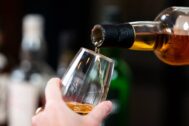 Cask Strength
With a free festival ticket, discounts, exclusive bottling's and events, as well as a gift at Christmas – This really is the ultimate way to enjoy what we have to offer at The Birmingham Whisky Club.
1 year Club Membership
£180
View membership
---